Home Computers
PC Wizard can take care of your computer needs at home starting with PC Tune-ups and up.
Networking
Computer networks setup and maintained for both home users and small business.
Small Business
Maximize your business networks to make your people more productive to get more done.
Who We Are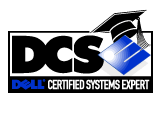 Dell-Certified Systems Expert

HP-Accredited Systems Engineer

HP-Certified Systems Engineer
Home computers
PC Wizard specializes in taking care of your home computing needs. Some of the services that we offer are basic tune-ups, clean ups, junk software removal, virus removal, and upgrades. We come to your home, at a time that's convenient for you. We will then assess your needs based on what you want to do with your computer and find the most affordable way to get you what you need. We are a full service company so we will do the total job you need so your computer is ready to be used when you are ready, and you aren't left having to get things the way you want them or guess what you should be doing. Once we've done work for you we will also answer your questions over the phone at no charge whenever we can.
Networking
Networking is no longer just for small businesses. With so many home that have more than one computer in the house it only makes since to network them together. This will allow you to share other resources such as the Internet connection, printers, or even files.
For the small business networking is almost a necessity. Being able to work from home and still get to the files on your work computer, or sharing a printer to reduce the cost of toner and paper. Not to mention having all the important company documents in one central location and everyone still be able to get to them whenever they need them.
Small Business
PC Wizard can take care of your business network, but a business still has many other needs at the computer level as well. PC Wizard does some of the same services with a business that are needed for the home. We can clean-up, tune-up, and remove viruses, as well as many other things that will make the computer run much smoother and make you and your employees much more productive while working. We can also suggest security measures that need to be taken that will suit your business best based on the security needs you have.
Contact us at:
For our shop: 770-906-0523
For onsite tech support: 770-906-0524
Hours of operation:
Mon - Fri: 10:00 a.m. - 6:00 p.m.
Saturday 11:00 a.m. - 4:00 p.m.