Who We Are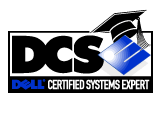 Dell-Certified Systems Expert

HP-Accredited Systems Engineer

HP-Certified Systems Engineer
Small Business IT Technical Support
PC Wizard was started in May of 2003 after recognizing the need for affordably priced IT tech support for small businesses. Over half the businesses in the metro Atlanta area are large enough to have multiple computers that are networked and sharing printers, files, and software. The needs of these businesses are extensive enough to be more than the typical business owner can do on their own, but not enough to have a full time IT person. This is the role of PC Wizard in your business.
PC Wizard was started to support the needs of the small business. We provide affordable technical support to take care of the little problems that often arise or we can come up with ideas on how to make things work better and more efficiently to make your job easier. PC Wizard will come to your location to do the work so it doesn't take time away from your work day and this also will get the problems resolved much faster.
If you have any questions please give us a call and we can give you an evaluation of what we can do for you. We also can often give you an estimate right over the phone of what something will cost at no charge at all.




Comtact us at:
770-906-0524
Hours of operation:
Mon - Fri: 9:00 a.m. - 7:00 p.m.
Saturday 11:00 a.m. - 4:00 p.m.