Who We Are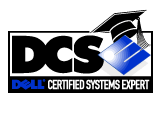 Dell-Certified Systems Expert

HP-Accredited Systems Engineer

HP-Certified Systems Engineer
For the Home User
PC Wizard was started in May of 2002 after seeing a need for affordably priced IT technical support for everyone including the home user. We are a full service IT Technical support company so we can usually take care of any problems you have with your computer or a home network. When I say we are a full service company what this means to you is we do the work from start to finish. We will not leave anything for you to do but just sit down and use the computer.
So many times I see home users that get frustrated because of a computer that is not working properly so they just go out and buy another one. Most of the time the old one is still a good computer and can usually be fixed for a fraction of the cost of a new one. Also, we work at a very affordable hourly rate so if you have more than one computer we don't charge you per computer when we are able to work on both at the same time. This will usually make our service rates lower than a typical shop rate.
Once your computer is working well we can also set up a home network at a very small cost. This can save time and money by better utilizing the resources you already have instead of buying extra things that you really don't need.
If you have any questions please give us a call and we can give you an evaluation of what we can do for you. We also can often give you an estimate right over the phone of what something will cost at no charge at all.




Comtact us at:
770-906-0524
Hours of operation:
Mon - Fri: 9:00 a.m. - 7:00 p.m.
Saturday 11:00 a.m. - 4:00 p.m.