Who We Are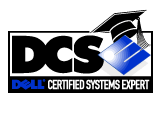 Dell-Certified Systems Expert

HP-Accredited Systems Engineer

HP-Certified Systems Engineer
Fresh New ideas
PC Wizard was started in May of 2002 after seeing a need for affordably priced IT tech support for everyone. After starting the company we quickly realized that although computers were changing almost daily, our competitors where not keeping up with new ideas. That is where we come in to take care of you.
PC Wizard always takes the time to talk to you about what you want and need and try to find the solution that will work best for you. We don't simply blackbox all jobs and do the same thing over and over at every place we go. Your individual needs will always be considered, then we will look to see what is needed to give you what you need, then we look at how we can do it the most affordable way. With PC Wizard our number one goal is to make you a happy, long term customer. We can only do that by giving you exactly what you want at a very affordable price and make sure it's not outdated as soon as we get finished with the work
If you have any questions please give us a call and we can give you an evaluation of what we can do for you. We also can often give you an estimate right over the phone of what something will cost at no charge at all.




Comtact us at:
770-906-0524
Hours of operation:
Mon - Fri: 9:00 a.m. - 7:00 p.m.
Saturday 11:00 a.m. - 4:00 p.m.